4 nights Dooars package, starts from New Jalpaiguri rail station or New Mal Jn. You can see everywhere the beauty of Dooars in the particular region. Dooars explore a mix of rivers, jungle, and animals. We make your 4 nights Dooars package journey comfort, reliable and suitable tour. Our 4 nights package including all food, transport, and accommodation. Everyday point to point sightseeing. Come and enjoy 4 nights dooars package tour with Gobhraman Holidays.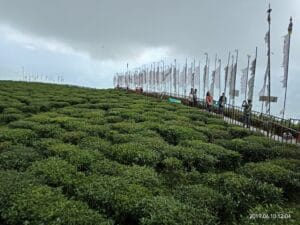 ABOUT DOOARS
The Dooars or Duars are the alluvial floodplains in northeastern India that lie south of the outer foothills of the Himalayas and north of the Brahmaputra River basin. This region is about 30 km wide and stretches over about 350 km from the Teesta River in West Bengal to the Dhanshiri River in Assam.
WHY WITH GOBHRAMAN HOLIDAYS 5 DAYS DOOARS TOUR?
We provide affordable personalized safaris and tours with flexible itineraries and time schedules. Comfortable transport knowledgeable and friendly guides for your exclusive use.
GoBhraman is a tour company based in Kolkata city.that specializes in safaris and tours that fit in with a philosophy based around responsible tourism, conservation, and the utilization of the environment in a sustainable manner. We are passionate about Dooars tourism, and who live and travel in this spectacular region, to bring you the finest holiday experiences. Go Better Feel Better with us.
Itinerary of 4 nights Dooars Package
Destination Cover - Gorumara, Medla,  jhallog, Bindu, Racky Island, samsing, Murti, Suntalekhola, Jaldapara, Buxa and jayanti.
4 nights dooars package Details
Tour Duration- 4 night 5 Days
Pickup: Njp or New Mal Jn RAIL Station.
Drop: Alipurduar Jn.
Night stay- 2 Night Lataguri, 2 Night Jayanti.
Dooars Trip Covers
Gorumara National Park, Chapramari Wildlife Sanctuary, and Buxa Tiger Reserve. Jayanti, Mahakal Mandir, Rajabhatkhawa, 7 points CoochBehar Rajbari and Madan Mohan Mondir, Tea Tourism.
1st day
Njp Rail station / New Mal Jn. or Bagdogra airport to Lataguri.
After arrival at the railway station, you are received our representative. Transfer to your hotel/resort at Lataguri. This place is close to the Garumara National Park.
We prefer to put up our guests in hotels/resorts which give you a feeling of being either in the forest or in a tea garden. or near the jungle. Late in the afternoon, we take you to get a feel of the Forest. Depending upon the availability of tickets/entry passes, we would take you to Jatraprasad or Medla watch Tower (Evening trip accompanied by a tribal dance by won cost. Overnight stay at Lataguri Hotel/resort.
2nd day
TODAY OUR DESTINATION 7 POINTS
Early morning excursion to you with capricious cascades, picturesque landscape and green tea gardens that lie beyond the horizon. Lunch on the way. evening back to the hotel at Lataguri hotel. Night stay at Lataguri.
3rd day
BUXA and JAYANTI :
Your Dooars tour plan remains unfulfilled without a visit to Chapramari. The mysterious whisper of deciduous trees, a sudden appearance of one-horned rhinoceros, and the swift motion of hog deer along with chirping birds all make Chapramari jungle a life-changing experience for your senses.
Imagine the thrill of watching a herd of elephant crossing the road in front of you or an impish leopard prowling beside you! The jungle safari brings you closer to the rich greenery and colorful wildlife. Your Dooars tour guide will remain with you to get the best of Chapramari.
Gradually the feel of adventure melts into the rhythm of the tribal dance. The ecstasy of the forest ends with bathing in the liquid silver of moonlight. Night stay Gorumara Hotel.
Early morning we will visit Chapramari jungle safari. ( If our guest choice). return back to the hotel. after breakfast check out the hotel and move to Buxa, Jayanti, Rajabhatkhwa, Mahakal Mandir.
afternoon we will visit Buxa fort. night stay at Jayanti
DOOARS SAFARI
4th day
Jayanti, Rajabhatkhawa, & MahakalMandir. Buxa tiger reserve, which was once known for dolomite mining, now enthralls tourists as one of the largest habitats for tigers. The place is also home to several known and unknown species of mammals and reptiles. If you are lucky, you may witness Leopards, Sambar, Asian Elephant, Gaur, Indian Civet, Pythons, and countless species of animals that reside in this national park.
The meandering river Jayanti is our next destination. Jayanti is "Mona Lisa" among the tourism paintings and you may call it "Queen of Dooars." The eco-tourism spot, far away from the smog of cities, has preserved its tranquil presence.
The Himalaya, with its enormous existence, safeguarded as well as enriched this hamlet with its enthralling charisma. Nature tied the vibrant lives and demure mountains in a seamless chain to revive the human soul with its purest essence. Our resort nestled amid the emerald trees frees you to breathe in the fresh air and let you live like a nomad, eliminating every connection with the outer world.
Rajabhatkhawa awaits you with an intoxicating fragrance of the night. The invisible canopy of eerie silence that covers the entire valley tears down with the cry of a wild animal and breaks the spell abruptly. When the darkness gradually dissolves into the soft rays of the morning sun, this experience of night stays with you, forever! Night stay in Jayanti
5th Day:
Cooch Behar Rajbari and Madan Mohan Mandir
After breakfast check out your hotel. our next destination today is Cooch Behar Rajbari and Madan Mohan Mandir. After visiting places transfer at your Station. Alipurduars.
Dooars tour package ends with sweet memories
Dooars Package Includes
Pickup - Njp or New Mla Jn station. | Drop - New Alipurduar Jn.
Transportation  | Accommodation: Cottage/ Resort at Lataguri and Damanpur near Buxa Jayanti.
Food Plan: API Plan. (All Meals as per package schedule).
Food package start from 1st day Lunch and last day breakfast
All sightseeing as per package.
Dooars Tour Excludes
Train Meals. | Personal expenditure. | Coolie Charge.

Still or Video Camera Charges. | Entry fee of the Jungle.

Guide fees. |Jungle Safari.

Dooars Tour Activities- Cam fire, tribal dance, jungle safari (won cost).
Contact Us
GoBhraman Holidays
1 Indra Roy Road, Opposite Indira Cinema, ground floor.Bhawanipore, Kolkata 25
PH - 9831993904 | 9477655443
WhatsApp | 9831993904
Dooars Hotel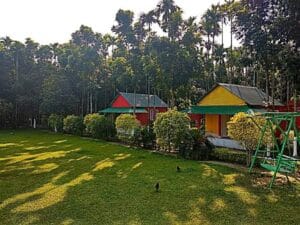 Transport