Dooars Jungle Watch Tower
3 nights Dooars package GobhramanHolidays a reliable travel agency.  We are ground Level tour Operator of Dooars tour. You can see with us everywhere the beauty of Dooars in the particular region. Dooars explore a mix of rivers, jungle, and animals. We make your journey comfort, reliable, and suitable customized tour package. Come and enjoy it with Gobhraman Holidays.
ABOUT DOOARS
The Dooars or Duars are the alluvial floodplains in northeastern India that lie south of the outer foothills of the Himalayas and north of the Brahmaputra River basin. This region is about 30 km wide and stretches over about 350 km from the Teesta River in West Bengal to the Dhanshiri River in Assam.
BEST MONTH OF GET IN DOOARS 
Mid-September to May
Highest rainfalls July to August
ID CARDS
Every Tourist Must carry any national ID card with ( voter and driving license) xerox and 3 copy passport size photo. Jeep Safari spot booking and booking depend subject to availability. The entry ticket collects directly by the tourist.6 people allow for each safari gypsy car.
WHY WITH GOBHRAMAN HOLIDAYS?
We provide affordable personalized safaris and tours with flexible itineraries and time schedules. Comfortable Vickhle, knowledgeable and friendly guides for your exclusive use.GoBhraman is a tour company based in Kolkata city. That specializes in safaris and tours that fit in with a philosophy based around responsible tourism/ Conservation and the utilization of the environment in a sustainable manner. We are passionate about Dooars tourism, and who live and travel in this spectacular region, to bring you the finest holiday experiences. Go Better Feel Better with GoBhraman holidays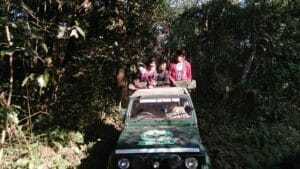 ENTERTAINMENT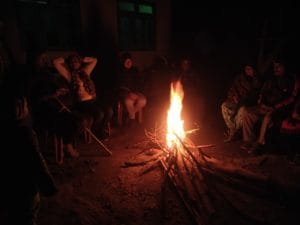 JALDAPARA JUNGLE SAFARI TIMES
Two in the morning and one in the afternoon:
Morning - 5:30am to 7am; 7am to 8:30am;
Afternoon Safari time
3:30pm to 5pm.
Safari Duration  1 hour 30 minutes.
GORUMARA  JUNGLE SAFARI TIMES
Two in the morning and Two in the afternoon:
Morning – 6 am to 7 30 am; 8:30 am to 10 am.
Afternoon Safari time- 2 pm to 3.30 pm.
4.30 pm to 6 pm
Safari Duration  1 hour 30 minutes
3 NIGHTS DOOARS PACKAGE
Dooars Tour Package Itinerary 
Destination - Gorumara,Medla,  Jhallog, Bindu, Racky Island, Samsing, Murti, Suntalekhola, Jaldapara
1st day
New Mal Junction to Lataguri:
After arrival at the railway station, you are received by our representative and transfer to the hotel | resort at Lataguri. This place is close to the Garumara National Park. We prefer to put up our guests in hotels | resorts which give you a feeling of being either in the forest or in a tea garden. Late in the afternoon, we take you to get a feel of the forest. Depending upon the availability of tickets | entry passes, we would take you to Medla watch tower (Evening trip accompanied by tribal dance). Overnight at Lataguri Hotel }resort.
2nd day
Lataguri to 7 points:
Early morning excursion to 7 Points-  Samsing, Suntalekhola, Bindu , Tea garden & Rocky Island. Against the ho-hum of metropolitans, Samsing greets you with capricious cascades, picturesque landscape and green tea gardens that lie beyond the horizon. Like Samsing, Suntalekhola amuses you with its magnificent indigo sky and hundred shades of green. As you trek from Samsing to Suntakekhola, you walk into the heart of Dooars.. Night stay Gorumara Hotel.
3rd day
Lataguri to Jaldapara:
Early morning we will check out the hotel and your destination is Jaldapara hotel, on the road we will visit MurtiRiver The unremitting prosody of river Murti, the murmur of the woods, and call of the wild -Jaldapara Jungle Safari, South Khyerbari leopard Park & rehabilitation Center. Night stay at Madarihat hotel.
4th day
Jaldapara to new Mal Jn station:
Early morning visit Jaldapara jungle safari. the elephant safari depends on Availity. back to the hotel. After lunch proceeds to new Mal Jn station for your return home journey.
TOUR END
Dooars Package Includes
1 - AP Plan Food. 2 - Pickup - Njp or New Mla Jn station.3 - Drop - New Alipurduar Jn.
4 - Transportation – Small car- 4 PAX Mahindra-Bolero/ Tata Sumo. 8 PAX Tempo Traveler - 12 pax
5 - Accommodation: Cottage/ Resort at Lataguri  and Damanpur near Buxa.
Dooars Tour Excludes
1 - Train Meals. Personal expenditure.
2 - Coolie Charge. 3 - Still or Video Camera Charges.
4 - Entry fee of the Jungle safari, Guide Charges
5- which all not in Includes. Guide fees. Jungle Safari charges.
CITY OFFICE
1, Indra Roy Road, Opposite Indira Cinema Bhowanipore, Kolkata-25
PHONE - +91-9831993904 +91-9477655443
WhatsApp - 9831993904
EMAIL