Sundarban Tour 2Night 3days Destination Covered
Island to Island -
Gosaba Hamilton Saheb Beacon Bungalow & Rabindra Nath Tagore Bungalow,
Birds Jungle (Birds Watching Session) OR Chorgheri Chor,
(NO MANS LAND  MANGROVE FOREST)
Pirkhali, SarakKhali,Gajikhali, Nbanki,
NARROW CREAK
Deul Varani, bono bibi varani, sarak khali 
  your watchtower
Sajnekhali (W.T),

Sudhanyakhali (W.T),

Dobanki (W.T).

Netidhopani(W.T.)(optional)
Village Market in sundarbans main Island.
1 -Pakhiralay, 1 - Dayapur, 
 2 Night 3 days tour itinerary :
Day-1
7.30 am Pickup from Kolkata (for Canning Package, from Canning by Auto) by an exclusive vehicle and drive to Godkhali( gateway of Sundarbans), a journey of about 3 hours.
11.00 am transfer guest from Godkhali jetty by motor launch to the resort/hotel located in the Sundarbans Islands. This journey would take guests/tourists down the rivers Hogol, Gomar, Durgaduni, and Gumdi in about an hour and a half. 1.30 lunch on the boat, after lunch check-in hotel. 2 hours rest.
4 pm set off on a motorboat and view the wildlife of the Pakhir Jungle or Chorgheri chor, chorgheri is the southernmost village of West Bengal. 
Do not forget to carry your shorts as the inviting waters of the Sundarban entice you to wade through them and frolic on the Mudflats.
One can spot Octopus, Star Fish,  Jelly Fish, Horseshoe Crab, prawn seeds as well as much other variety of fishes, etc. An interesting activity involves a country boat ride along with the jungles.
Guests can set off for a visit to a village and learn about the experiences of the villagers. Meet the fishermen, the Honey Collectors, as well as they, share their experiences .6 pm back to the hotel.
7.00 pm -In the evening we serve snacks with local folk dance presenting  by local girls and women's
9 pm dinner. Night stay at the hotel.
Day-2
6.30 am bed tea.
7.30 set off on a motorboat.
 Sundarban Tour 2 days  JUNGLE SAFARI
The second day involves a full day cruise through the rivers and narrow creeks of the Sundarban National Park and a lovely birding experience. We will see the beauty of wildlife from Sajnekhali watchtower and visit the Sajnekhali Museum and Mangrove Interpretation Centre.
*Food would be prepared and served on the motorboat.
8.00 am visit sajnekhali watchtower, after visiting our next watchtower is the Sudhanyakhali watchtower. of the Sundarban National Park. Most of the Royal Bengal Tigers are sighted from this tower. Some other wildlife like axis deer's, wild boars, varieties Mangrove plantation here for introducing of tourist.may also be seen from this watchtower. There is a sweet water pond where animals drink water. Behind the pond, one can sight animals from a distance. 
2 NARROW CREEK WATCH –  1- BONO BIBI VARANI, 2 – DEUL VARANI
1.30 lunch on the boat. After lunch, we reach to Dbanki watch tower .theis watch tower famous for the canopy walk. this walk allows you to view wildlife from a netted enclosure. Next on our itinerary would be the Spotted Deer Rehabilitation center. Thereafter, enjoy the thrill of cruising deep in the forested area and also around the islands of the Sundarbans Tiger Project area. Let be guided by our guide to viewing the Mangrove forest from close quarters, deep inside the creeks.
4.30 pm return to the hotel. evening full leisure.
7.30 pm serve tea and snacks
900 pm dinner. night stay at the hotel.
Day-3
6.30 am  Bed tea serve
7.30 am we are going for a village walk. meet people and see their lifestyle. back to the hotel
11.00 am checkout hotel and prepare back to godkhali. 12.30 pm serve lunch on the boat
2.00 pm reach Godkhali.
5 pm reach Kolkata.
     TOUR END
Sundarban Tours Special Attraction & Activities
Camp Fire (Winter Season Only).Village Walk & meet Local people. Bird watching Session at 'Pakhir Jungle'(only winter season)  Jhumur Dance (Traditional Folk Dance by Local Village Girl and women).
Package includes:
Pickup & drop as per Package schedule (for Canning to Canning package pick up & drop by auto from Canning to Godkhali and for Kolkata to Kolkata package pick up & drop by car from Kolkata to Godkhali), All Meals like Breakfast, Lunch, dinner, as per package schedule, Jungle Permission., Entry Fee, Boat Safari, Tour Manager, Tourist Guide, Mattress & pillow at Launch if night stay at launch (This is only for adventure lovers, as there are no luxurious facilities are on boat).
Package Excludes
Camera Permission Charges, Alcoholic drinks, Baggage Coolie Charges, Any meal out of the package, Personal expenditure.
Canning to Canning Package Transportation
Transport by auto from Canning to Godkhali ferry ghat.
Kolkata to Kolkata Package
Transportation
Pickup and Drop by Non AC car / AC car- Tata Sumo/ Tempo traveller/ tourist bus from the airport, main railway station or your location / your residency/ from hotel/ any point of Kolkata
Note – This Package price is applicable only above 12 Persons in sharing / exclusive basis.
FOOD MENU (2 Nights 3 Days)
1ST DAY:
Packet Breakfast & Mineral Water – on the way from Kolkata to Godkhali
Welcome drinks- Coconut water
tea and snacks
1.30 pm Lunch – Rice, Roti, Dal-Murighanto, Beguni, Chingri Malai curry, fish Kalia, Chatni, Papad, Salad.
4 pm Afternoon – Tea/Coffee.
6.30 pm Evening Snacks –Ch­icken Pakora, Tea/Coffee.
9 pm Dinner – Fried Rice, Roti, Chicken Kosa, Mix Veg, Chatni, Papad, sweet, Salad.
2nd DAY:
6.30 am Early Morning – Bed tea, Biscuits.
7.30 am Breakfast – Alu Paratha(2pc), Chana Masala, Sweet, Tea/Coffee.
1.30 pm Lunch – Rice, roti, dal, Kashmiri Aludom, fish curry, Chatni, Papad, Salad.
4.30 pm tea and biscuits
6.30 pm Evening snacks – Chowmin, Sigara, Tea/Coffee.
9 pm Dinner – Rice, Roti, Dal, Potol fry, mutton curry, Chatni, Papad, Salad.
3rd DAY:
6.30 am Early Morning – Bed tea, Biscuits.
7,30 Breakfast – kachuri, chana masala, Boiled egg, sweet, Tea/Coffee.
1.30 pm Lunch – Fried Rice, Chilli Chicken, Salad.
4 pm Afternoon – Tea/Coffee, Biscuits.
-----------------------------------------
Sundarbans package cost
2 Night 3 Days 
(EXCLUSIVE TOUR)
FROM KOLKATA
6    PAX        6500      PER HEAD
10 PAX          5000      PER HEAD
12  PAX         4500      PER HEAD
SHARING TOUR
(FIXED DATE DEPARTURE)
        Rs. 4500 PER HEAD
SEE OUR OTHER WEBSITE
TRIP TO SUNDARBAN
 Sundarban Tour
1 night 2 days
CONTACT WITH US
GO BHRAMAN TRAVELS
1 I ndra Roy Road, opposite Indira Cinema
Ground Floor. Bhwanipur kol-25
Call - +919831993904/9477655443
Whatsapp- 9831993904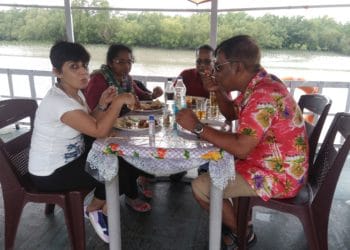 SUNDARBAN HOTEL
DELUXE PACKAGE